Izzy wins the national champonships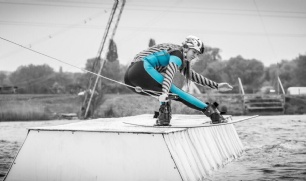 Izzy Goode takes the National wakeboarding title.
Izzy is continuing to juggle her school work and her wakeboarding with awesome efficiency. With a tough week of exams, Wednesday, Thursday & Friday, Izzy rushed off to London straight after her last exam and competed in the UK National Wakeboarding Championships. She was aware that all her competitors had been practising all week on the cable and Izzy had been unable to so at the lake due to her exams.
Izzy rode in a very controlled manner and won the championships so she is National Champion 2017 and GB number 1. She is currently ranked number 5 in the world but this changes regularly, as there are quite a few competitions in Europe at the moment.
Her next competition is in early July for the Welsh Open and the European with the African Championships to be held in Egypt in November. We all wish Izzy the best of luck for these.