News from 2013
Redborne Staff and Students Celebrate Christmas Jumper Day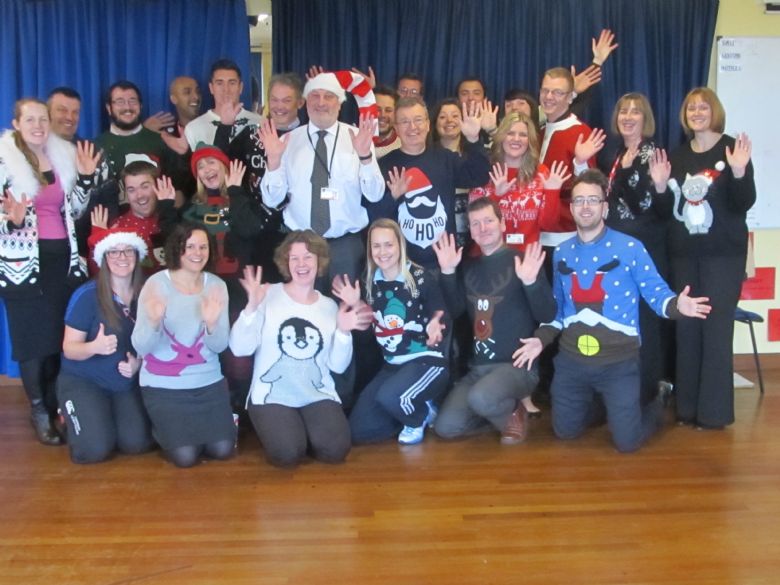 Lots of staff and students wore Christmas jumpers to support the Christmas Jumper Day and raise money for Save The Children's Make The World Better with a Sweater campaign. Hope that you enjoy the pictures of some rather tasteful attire.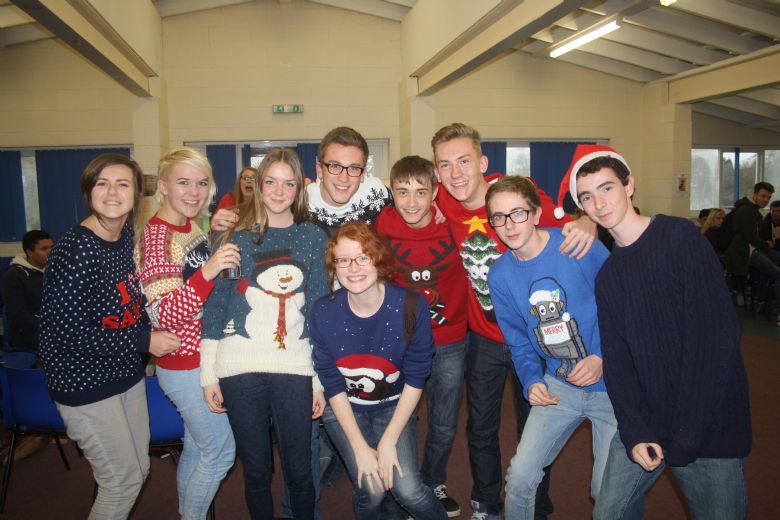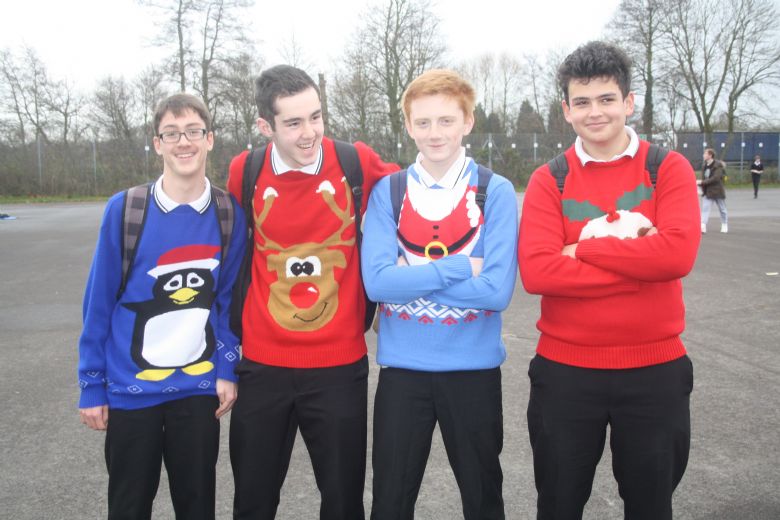 UK Maths Challenge
James Bower, Ben Ramchandani, Cara Ramchandani and Charlie Rawlings took part in the UK Senior Maths Challenge regional final in November, hosted at Longdean School. The team achieved another excellent result for Redborne finishing in tenth position whilst facing some tough competition from mostly older teams. They worked together extremely well and put in a lot of preparation for the event and this obviously paid off; apparently the Ramchandani's were a deadly combination on the Crossnumber challenge! Well done to all. (Mr J Barkas)
2014 Calendar Competition
Every year, Mr Dobson and the Eco Committee run a calendar competition for students to enter. Here is this year's calendar which is on sale from the school shop starting next week.
GCSE Presentation Evening 2013
This year's presentation evening was a chance to celebrate the fantastic achievements of our students. Parents and staff had the chance to congratulate the students as they were presented with their exam certificates. For pictures of the evening, please click here.
Children in Need
Year 10 held a charity cake sale and raised £130.61 for Children in Need. A big thank you must go to both students and staff for helping out with baking cakes and helping to sell them.
Redborne Racing invited to Formula Student Engineering Event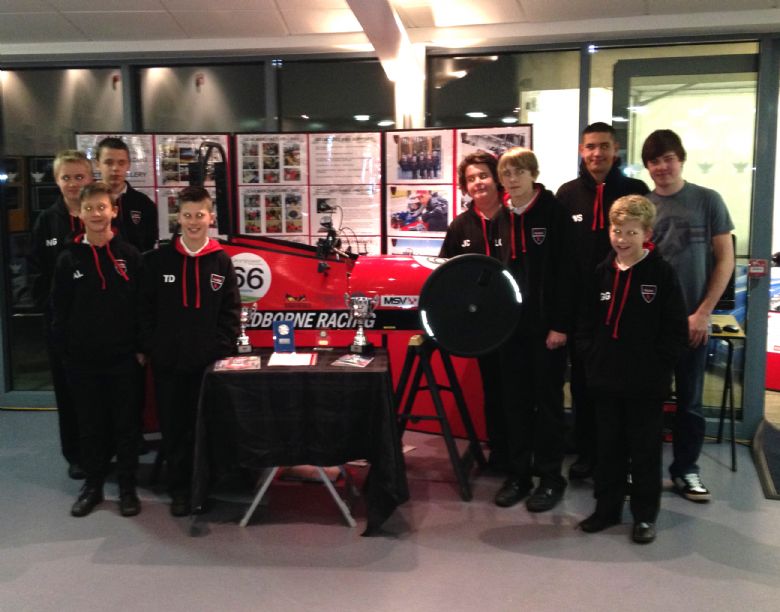 With the success of the Redborne Racing team in the 2013 season, word has spread around Bedfordshire that we are fast becoming a force to be reckoned with. The Redborne Racing team were invited to display their car at the Bedford Modern School along with a host of other local Greenpower electric cars, vintage Lotus Formula 1, Aston Martin and Radical race cars and 3 Formula Student development race vehicles.
The event is hosted each year by Bedford Modern to engage and promote engineering amongst school pupils, moving through into further education. The event gave Redborne Racing students a chance to network with university students and other professionals in the engineering industry with visitors from Red Bull, Williams and Lotus Formula 1 teams. Our students were able to discuss the next development projects for the Redborne Racing car, RB2, clearly and coherently with the industry professionals, who commented on how knowledgeable and enthusiastic the Redborne students were.
The cars on show were no just there for a visual performance. An incredible 'sound off' between a V12 Aston Martin, a V8 Radical track car and a 1973 Lotus F1 car was a real spectacle and the students were able to be part of the action by sitting in some of the historic racers.
Work is commencing on the 2014 developments for RB2. A new rear tail section, a front screen and waterproof battery boxes are on the agenda for the Formula 1 Engineers of the future, the Redborne Racing Team.
Redborne Magazine
Redborne has launched a new magazine. Students have collected and edited articles for the new publication. Click on the image for the launch edition.
Macmillan Cancer Relief
Year 10 students recently participated in The Big Hush, pledging to remain quiet for an entire form period! Bliss! The donations amounted to just over £200, with some individual students donating very generously indeed. The money will be donated to Macmillan Cancer Relief. More events have taken place and more news will follow soon.
Redborne Racing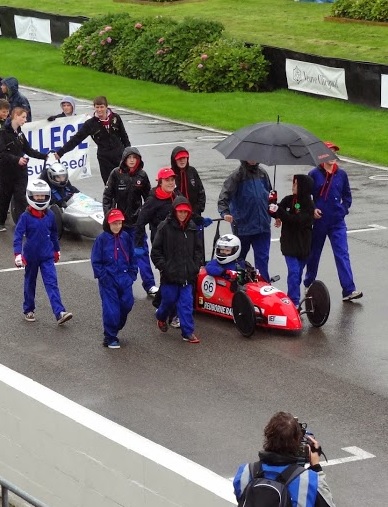 Here is a report of Redborne Racing's latest exploits written by Mr Brooks.
The Redborne Racing Team delivered a truly commendable performance at the Greenpower 2013 National Final at Goodwood Motor circuit on Sunday 13th October. Unlucky for some…
The preparation for this race started after we found out that Redborne Racing had qualified 66th overall in the country out of over 300 cars. The students decided which gear ratios to run and the car was set up to run with higher gear than in the heats to achieve a higher top speed. The car and kit were loaded onto the new Redborne trailer and off we went to the south coast.
Race day in Hampshire arrived with a dull and dreary morning. The car went out to practise and returned in 54th position. 12 positions of improvement. The rain relentlessly fell over Goodwood Motor Circuit for our F24 4 hour endurance race. Elliot Jones drove first, cutting through traffic and got the team to 22nd position overall. A great performance with the fastest lap from our drivers at 5m 22s over the 2.4 mile circuit. Alex Lockey then took the helm to drive us way up the order into 16th, 50 places higher than where we started. An average speed of 25.6mph was evident after this stint. We were really punching well above our weight and maintained the 16th position until the 3rd battery change when our problems began.
The downpours had ruined our battery boxes which meant no connection, no power, and no drive. Tom Dobson and Ben Stevens crawled the car round with intermittent connection issues, but through no fault of their own, being overtaken time and time again. The car arrived in the pits on the back of the support vehicle again. A ratchet strap held the battery boxes together whilst George Golding limped the car around for a final half hour of miserable endurance racing in the wet. We retired the car 20 minutes from the end. From hero to zero, we finished 70th from 75 cars.
The effort and enthusiasm of the of the drivers and pit crew : Matthew Barnard, Will Sharp, Liam Coleman, Nick Grant and Jack Croft have to be commended with quick pit stops and the determination the keep the car out of track. The weather was truly appalling. Through it all, not a single student, nor the many parents that made the two hour journey to support had a bad word to say.
13th October 2013. Unlucky for Redborne Racing. Our season has been dampened at the last, but a very encouraging one for the students who work tirelessly each Monday to get to the races. Every cloud has a silver lining, and this has given the Redborne Racing team a great platform going into 2014 knowing that we have a competitive and well balanced car.
Music Trip to Germany 2013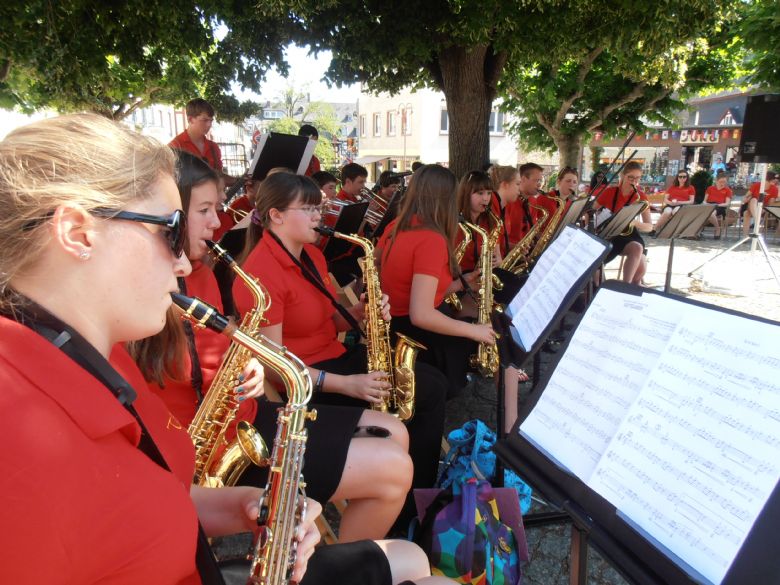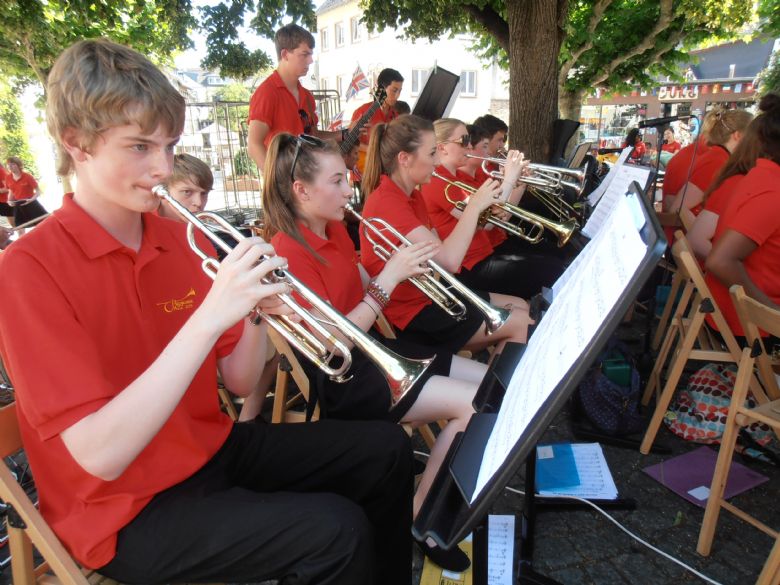 Redborne Jazz Band and Choir went on their first trip to Germany. The students were amazing! They worked as an effective team throughout the whole trip and looked out for each other. They managed to produce 3 concerts of the highest quality even though we had temperatures that reached 41.5 C. Mr Bottone (Head of Music) and the rest of his team, Julie Fisher, Sam Fisher, Anna and Michael Hailes would like to say a huge thank you to the students for their hard work and enjoyable company.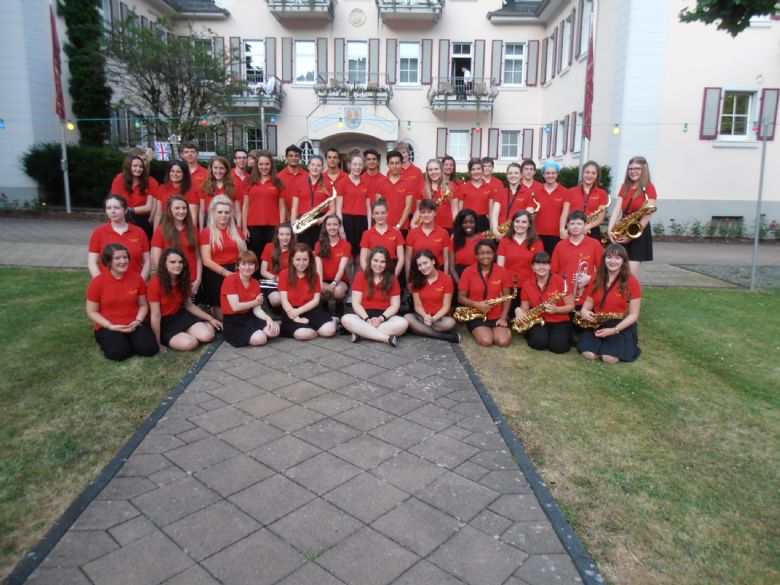 Nelson Mandela Day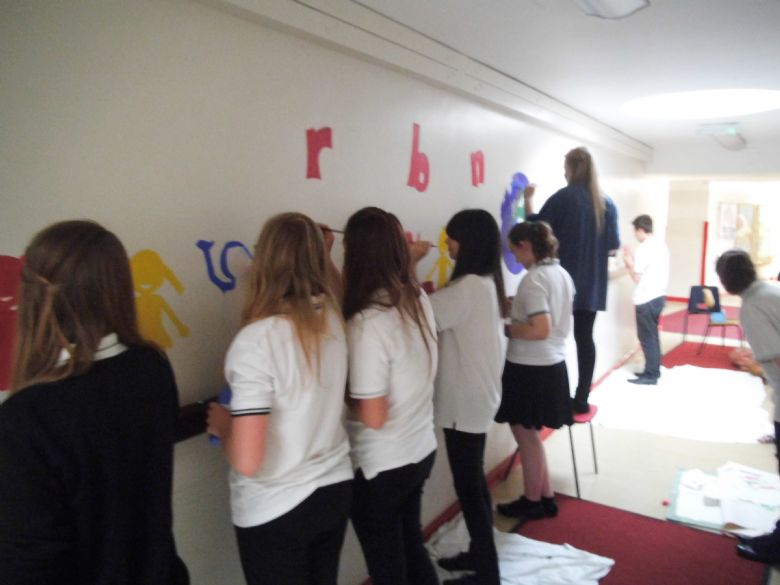 To help celebrate Nelson Mandela Day, a group of Year 9 students painted a mural along the south school corridor to highlight our link with Van Cutsem School in South Africa. A great deal of fun was had by all and it has certainly brightened up the place. The students helping included Luke Bates, Ben Nichols, Ashley White, Milli Ralevic, Drew Wood, Corren Perks, Olivia Black, Tiegan Butler, Amber Bailey, Louise Cullingham, Alex Jakins, Martin Lindill, Miss G Hawkins and Mrs S King
National School Team Championships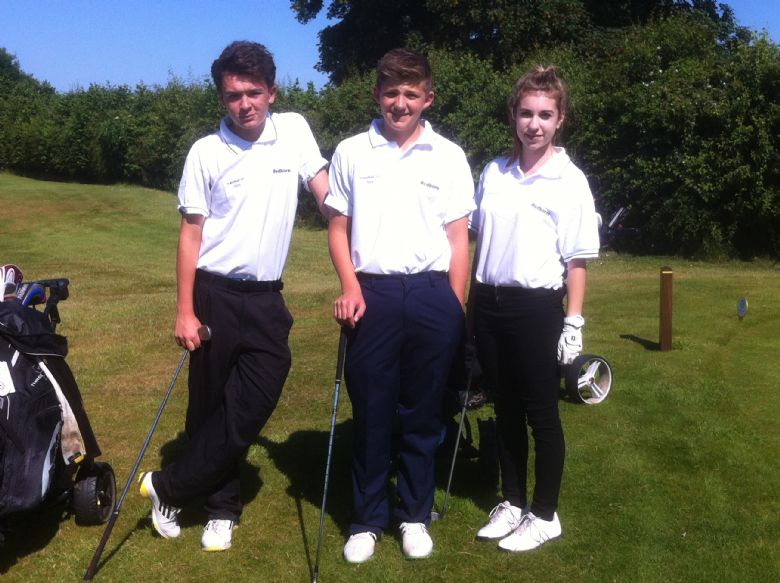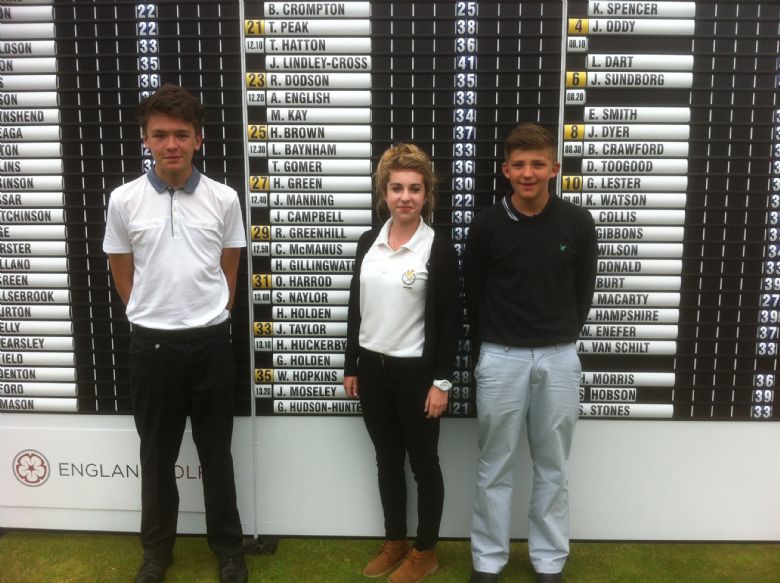 Redborne students attended the National School Team Golf Championships on Tuesday 9th July and Wednesday 10th July at Woodhall Spa. Having qualified by winning the Bedfordshire Handicap Tournament, the students had the opportunity to play at the home of English Golf. The weather was superb and the course was in immaculate condition, which allowed for some excellent golf over the two days. The students acquitted themselves well for their first time and finished 9 points off the lead. The experience was one the student will never forget and we look forward to next year and trying to repeat the feat all over again. The team consisted of Charlotte McManus, Luke Baynham and James Manning.
Ampthill Football Club
Ampthill Town Youth FC is holding a football tournament on Sunday 14th July from 9am onwards at Ampthill Town Football Club.
Many teams from around the county will be taking part – including Ampthill Town – in what promises to be a cracking day of football.
Please do come along and support the boys. Entry is £2 per adult and all U16's are free of charge. Refreshments will be served throughout the day!
National Sports Week 2013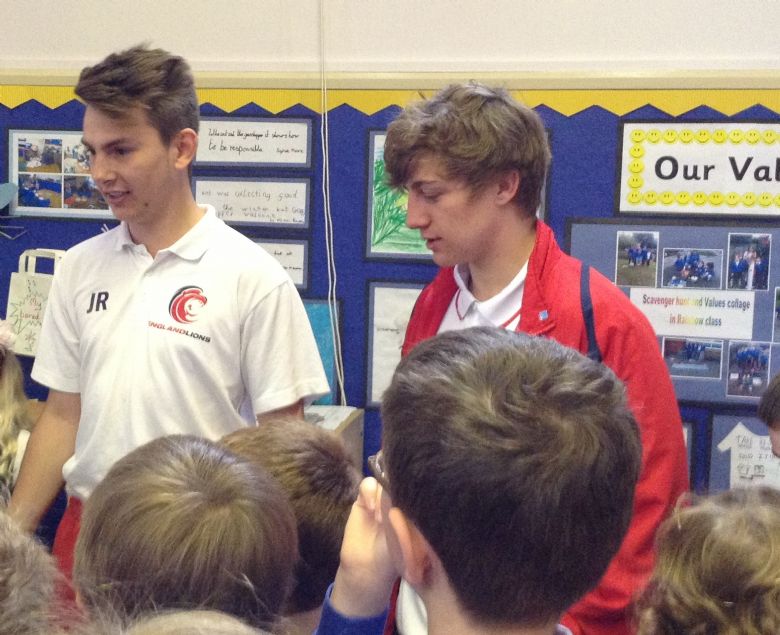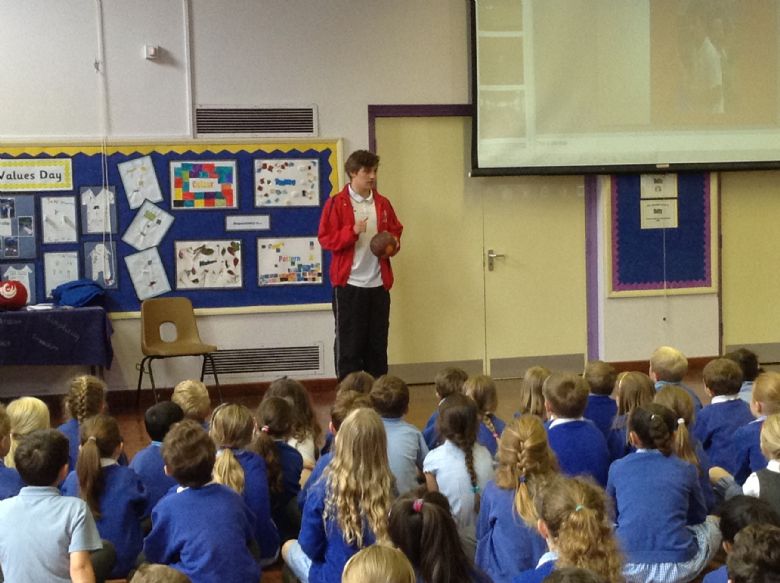 Redborne student and England Handall player Alfie Martin inspires a generation and helps kick off Ramsey Lower schools National Sports Week 2013. Alfie gave an informative presentation about how he was introduced to the sport, his training commitments and the highlights of playing Handball for England.
Alfie now 17, was selected for the England Squad last summer, he travelled to Sweden and first experienced playing for his country against teams from all over the world. Alfie is currently on the EHA Advanced Apprenticeship in Sporting Excellence (AASE) programme which is a two year course and after this he hopes to be selected for GB at the next Olympics.
Fashion and Clothing Show
On Thursday 20th June the Year 13 Fashion and Clothing students showcased their work from the 2 year course. The work was splendidly exhibited in our new Textiles rooms. A catwalk show of their wedding dresses was also a part of the evening and this took place in the double exhibition room. Over 200 guests attended the evening and were very complimentary about the outstanding standard of the work. We had several of our past fashion students attending, many of whom were relating their success as workers within the industry and some of them for prestigious companies. Many of the year 13 students have places awaiting them on various fashion related courses at universities and their marks have just been submitted to the examination board with all students exceeding their indicators. (Mrs Pateman)
Redborne Jazz Cafe 2013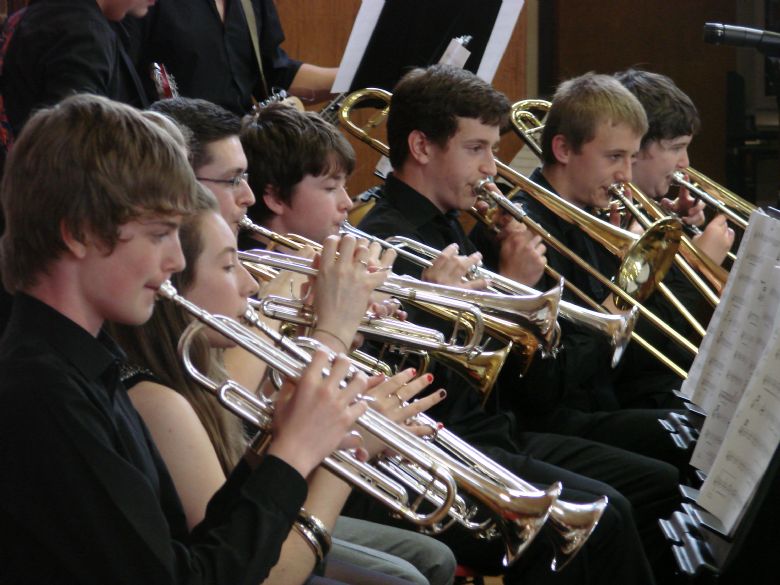 The Jazz Cafe is one of the highlights on the school calendar and is well attended every year by a mix of students, staff and parents. This year was no exception as the evening continues to go from strength to strength. There was a wide variety of music ranging from the old favourites to new arrangements played by the band and sung by the vocalists and choir. The talent that was on show incredible and every piece of music was applauded to the rafters. A great deal of hard work goes into producing such a professional and polished performance and everyone that took part should be commended.
Not only was the music a tribute to the talent at Redborne, but there were also refreshments available that were produced by Redborne students. Mr Williams cooked sausages on the BBQ that were produced by the Redborne farm and dessert was provided by Miss Ives and her GCSE students in the form of cup cakes and individual fresh cream pavlovas.
The Jazz Cafe was once again a tremendous evening and should be pencilled into everyone's calendar for next year. For last night's running order and cast, please click here.
Redborne Students help Jack and Jill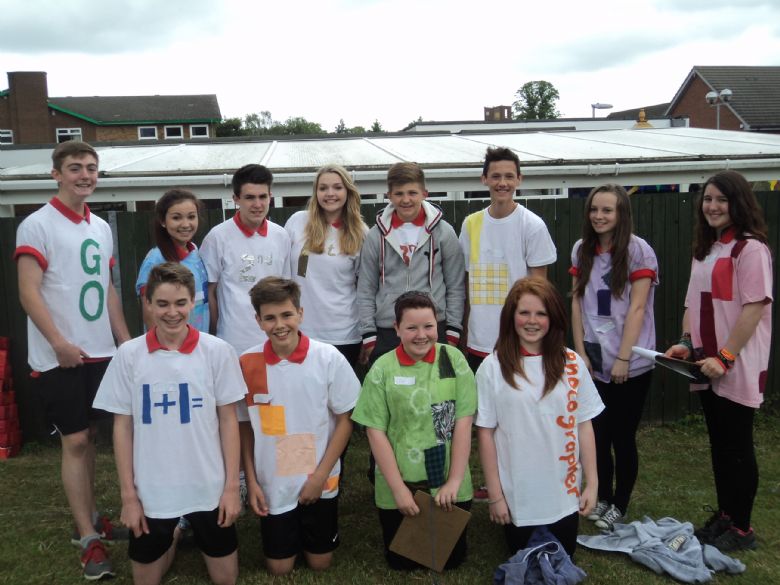 The students chosen to represent Redborne on Friday 14 June at the Jack and Jill playgroup sports day had a whale of a time! They got given special t shirts to wear - John Baldwin was particularly proud of his Go! t shirt!
The staff commented on how helpful our year 9s had been and what good representativeness of the school they were. The students themselves seemed most happy about the fact that they were given £1 spending money, constant sweets , never ending vats of Coke and Dominos pizza!
Holocaust Survivor visits Redborne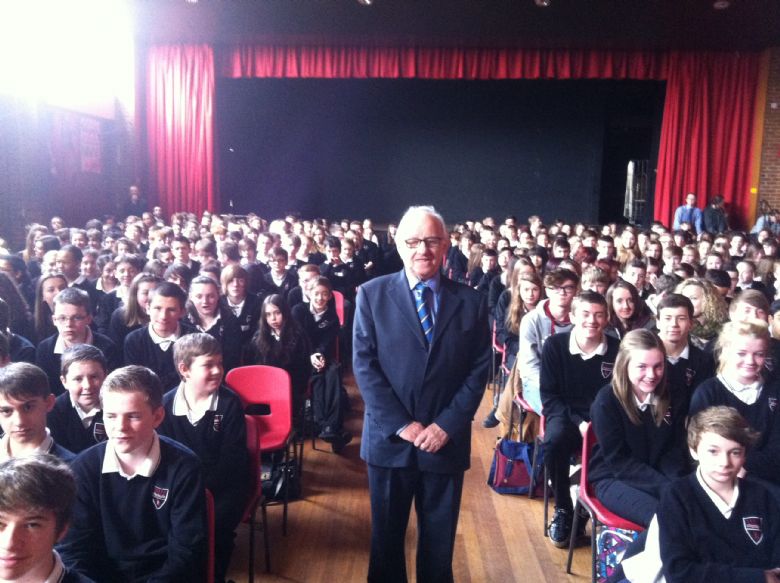 On Wednesday 12th March, a Holocaust Survivor Zigi Shipper came to Redborne to give year 9 a talk about his time during the Holocaust. It was very moving to hear about the extreme hardships that he and his friends suffered at such a young age. He was separated from his parents and left with his grandma, but part way through 1943 he was taken from her and left on his own with ill and dying strangers not knowing where he was. To have Zigi come in and explain to us the horrific scenes he saw and went through was emotional, yet educational to listen to and we can't thank him enough for giving us the opportunity to listen to his story. I am sure that it made us all feel how lucky we are to live the lives that we do.
Ciara Reynard 9JCT.
Year 9 Fund Raising
Year 9 students recently participated in The Big Hush, pledging to remain quiet for an entire form period! Bliss! The donations amounted to just over £200, with some individual students donating very generously indeed. The money will be donated largely to Macmillan Cancer Relief. £50 of the proceeds are being donated by year 9 to St John's Hospice in Moggerhanger, in memory of Mr Carter, who lost his long battle with cancer last weekend.
School Closure Arrangements
As the weather starts to turn wintry, it is important that the school prepares for all scenarios. In the first instance, the school will endeavour to remain open if at all possible. However, if the weather becomes too bad, a decision will be made to close the school to ensure the safety of everyone. In this instance, there is a clear snow closure policy that the school has to follow.
If the decision to close is taken before the start of the school day, there will be announcements on local radio, a message on the school switchboard and a message on the school website. This year Central Bedfordshire have arranged for a School Open Status (SOS) System, which will mean that you can be kept up-to-date with all closures and of any local traffic issues through email. To make use of this system, please follow the details on the following link; http://www.centralbedfordshire.gov.uk/webApps/SOS
Should you have any questions, please contact the school in the usual way.
New Events at Redborne
There are a number of new events happening at Redborne to go alonngside the regular car boot fairs. For more information, please click here.
Rotary Club Catering Competition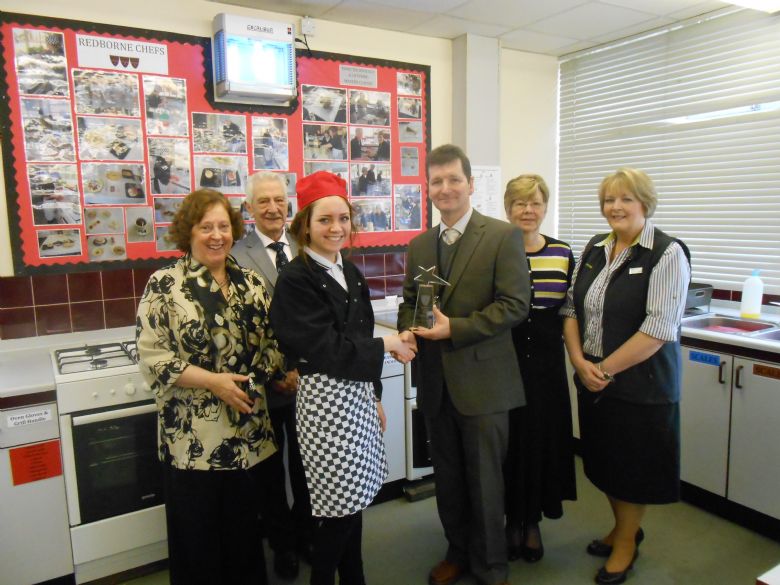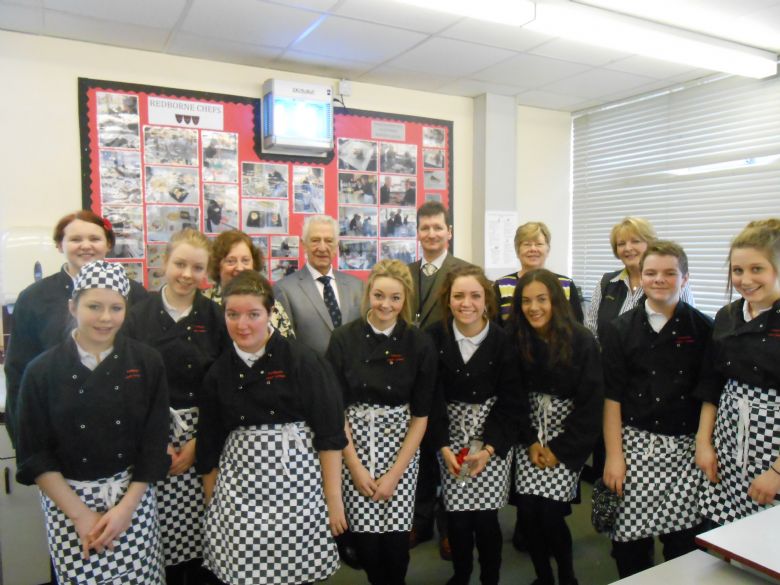 Redborne students took part in the Rotary Club's annual catering competition. The students were very calm, organised and produced excellent dishes. They all enjoyed the experience and the judges were all really impressed with the standard of work and their professionalism.
The judges were torn between two students for first place which ended up going to Lilli Keenan. Lucy Rollinson came a very close second. The judges couldn't even place a third because again there were about three students in the running for that so they were all given highly commended.
All the students were a credit to the Food Technology department and should be congratulated on their achievements.
Year 11 Basketball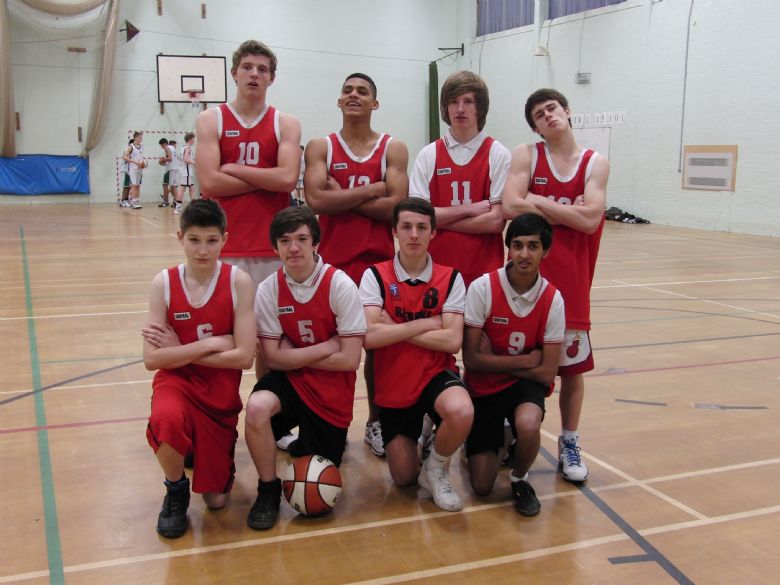 Year 11 Basketball team have just completed a very exciting season. They came together just wanting to play some basketball and improve their skills.
All last term, they kept battling away and remained undefeated during the pool stages and were given a bye through the semi finals. They played Sharnbrook in a keenly competed District Final, but it proved to be a game too far, eventually losing out.
All the players should be congratulated on their hard work and enthusiasm throughout the campaign.
The squad was: Lewis Emery-King, Harvey Diack, Amiel King, Peter Twitchen, Alfie Smeeth, Henry Stevens, Ben Chilwell, Tom Bryant, Caelen Jack and Anish Patel.