redborne Racing at Dunton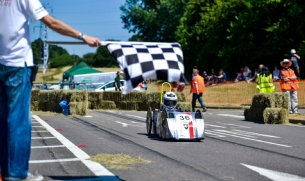 Successful start to 2018 season for Redborne Racing.
The following is a report by Keesha Coker in Year 10
The Redborne Racing team left early to go to Dunton. We arrived on time and set up in our assigned spot. Everything was unloaded and the car was scrutineered and we were ready to race. We did a quick walk lap to check out the track and we prepared ourselves for the first race. We had planned our pit stops and who was where. We moved the car on to the track ready for the first race. We planned to have two pits stops and three drivers all together. It was a ridiculously hot day so we have to cover the driver with an umbrella and we were questioned about our roles within Redborne Racing by the organisers.
The first race began and we started off well. We were placed to the front due to our fast times. The laps began and we were in the top three every lap. 30 mins in and we were doing great. The rest of the team stood by and supported, waiting for our first pit stop. Sooner than we imagined our pit stop was approaching. We had to be quick, we had to be in and out of the pit as soon as possible but we also needed to make sure we had the driver strapped in properly or we would waste more time being checked. We were all ready for the pit, until a volunteer told us we could only have two people on the pit. After that we managed all pit stops and came second in the first race.
There was a long gap between the end of the first race and the start of the second. But when it was time for the next race we knew that we had to win. As the race started we found that our competition the first place car from the race before stalled and didn't start. We were both excited but sorry at the same time. This put us as the one to beat. Our laps were fast and smooth and we remained first lapping our competitors.
We came first in the final race, putting us at a first overall. We were excited and proud and the received our trophies and medals. This was when we were told an extra prize for winning was to be individually driven in a new Ford Mustang which concluded a pretty successful race.
For pictures of the event, please click here.