Hospitality shown by Redborne Students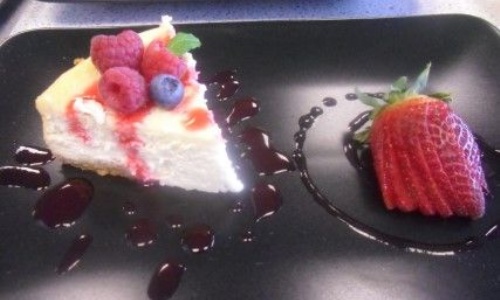 The year 11 hospitality group completed their 'event' today. They served a three course meal plus tea, coffee and homemade biscuits to 20 visitors today and were outstanding!
The following students took part; Kira Allen, David Bass, Heather Bull, Ella Clements, Lauren Digby, Emma Findlay, Chloe Hutchinson, Imogen Mooney, Anna Sheard, Jodie Wallman and Chloe Wiles
The menu!
STARTER
Breaded mushrooms with homemade garlic mayonnaise
Cheese soufflé with a cheese crisp
Chicken goujons with homemade tomato ketchup
Cheese and bacon potato skins with a chive and sour cream dip
Salmon pate with homemade bread
Chicken tikka kebabs served with flatbread, yoghurt and mint dressing and salad
MAIN
Stuffed chicken wrapped in bacon served with dauphinoise potatoes and seasonal vegetables
Toad in the hole with homemade gravy and seasonal vegetables
Pork and apple burgers with sweet potato chips and homemade tomato ketchup
Vegetarian (quorn) lasagne served with garlic bread and mixed salad
Steak and ale pie served with seasonal vegetables
Fish pie served with seasonal vegetables
DESSERT
Chocolate fondant with raspberry ice cream and spun sugar
Baked vanilla cheesecake and homemade fruit coulis
Crème brulee served with a homemade shortbread biscuit
Apple pie and custard
Lemon meringue pie and citrus sorbet
Tiramisu
Strawberry and raspberry meringue stack with Chantilly cream