Science Faculty
In the Science Faculty we have 20 teaching staff and 8 support staff. The faculty is broken down into a number of departments which include biology, chemistry, physics, psychology and agriculture.
In Year 9 students will begin one of two distinct pathways that are both designed to suit individual students needs, regardless of ability.
We expect that the majority of students will follow a combination of both AQA Core GCSE Science and the OCR Level 2 National Award in Science. The first of these qualifications leads to a single GCSE awarded at level A* to G and this is assessed through written examinations taken throughout Years 9, 10 and 11. The OCR award leads to a Pass, Merit or Distinction and is equivalent to two GCSEs. A pass being worth 2 GCSE C grades, a merit 2 GCSE B grades and a distinction 2 GCSE A grades. The OCR is assessed through a portfolio of work which is compiled by students throughout Years 9, 10 and 11 and is not exam based. Students on this route therefore have the potential to achieve the equivalent of 3 Science GCSE qualifications and will be very well positioned to further their Science education via qualifications such as the BTEC Level 3.
The second route we offer is aimed at students who might well decide to continue their science education to traditional A levels and beyond. They will study the AQA Core GCSE Science during Year 9, on our fast track programme and would be in a position to gain their first GCSE at the end of Year 9.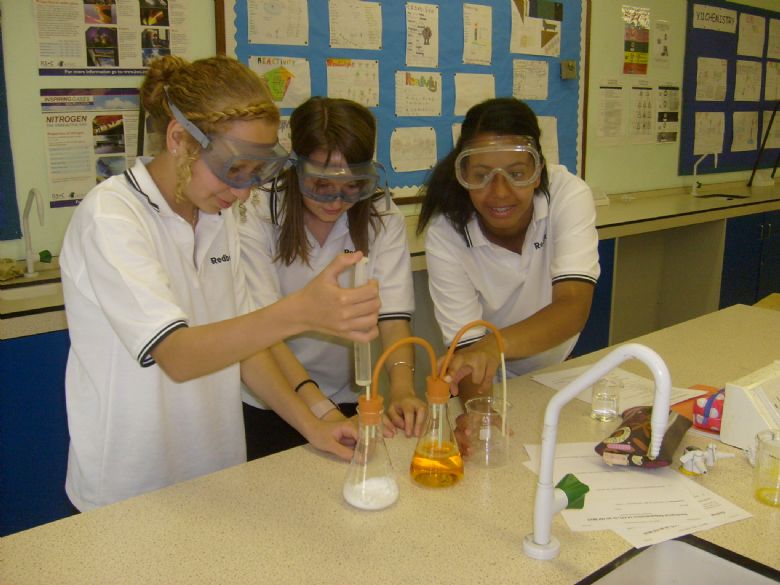 In Years 10 and 11 most students will continue with the AQA GCSE and OCR National Award and the remaining students who have completed the AQA GCSE in Year 9 will study the AQA Additional Science GCSE. The above routes are all delivered within the Core curriculum and in addition to this there are also a number of options available to our students. These include;
· AQA Triple Science (Biology, Chemistry and Physics) GCSE which is intended for our fast track core students
· AQA Additional Science GCSE for students who are not on the fast track
· AQA Psychology GCSE as a single option
· Environmental and land based GCSE
· BTEC Level 2 Certificate in Agriculture
· BTEC Level 2 Diploma in Agriculture
In the Sixth Form students study can choose from
· OCR AS and A2 level Biology, Chemistry and Physics
· AQA AS and A2 level Psychology
· BTEC Level 3 Biology
· BTEC Level 2 Certificate in Agriculture
· BTEC Level 2 Diploma in Agriculture
The faculty also runs a number of extra-curricular activities which include inter house competitions, field trips e.g. Whipsnade Zoo, Luton Law court, Gifted and Talented events, Museum trips, University lecture visits and much more besides.