News and Events
Dr Sutton Speaks at Chemistry Conference
Dr Sutton was the guest speaker at the Salters' Festival of Chemistry at the University of Bedfordshire, an annual event sponsored by the Royal Society of Chemistry. This year he spoke about the wonders of nanochemistry and how it can be used to save lives, from using graphene-based filtration systems that can turn seawater into drinkable freshwater, to the use of miniature 'nanobot' robots that have already been tested inside human bodies to deliver drugs and repair damaged tissues. Science fiction is becoming reality!
Izzy Wins National Championships
Izzy is continuing to juggle her school work and her wakeboarding with awesome efficiency. With a tough week of exams, Wednesday, Thursday & Friday, Izzy rushed off to London straight after her last exam and competed in the UK National Wakeboarding Championships. She was aware that all her competitors had been practising all week on the cable and Izzy had been unable to so at the lake due to her exams.
Izzy rode in a very controlled manner and won the championships so she is National Champion 2017 and GB number 1. She is currently ranked number 5 in the world but this changes regularly, as there are quite a few competitions in Europe at the moment.
Her next competition is in early July for the Welsh Open and the European with the African Championships to be held in Egypt in November. We all wish Izzy the best of luck for these.
Fashion and Graphics Exhibition 2017
The graphics and fashion students put on an exhibition to show off their fantastic work. For some photos of the event, please click here.
Success on the Farm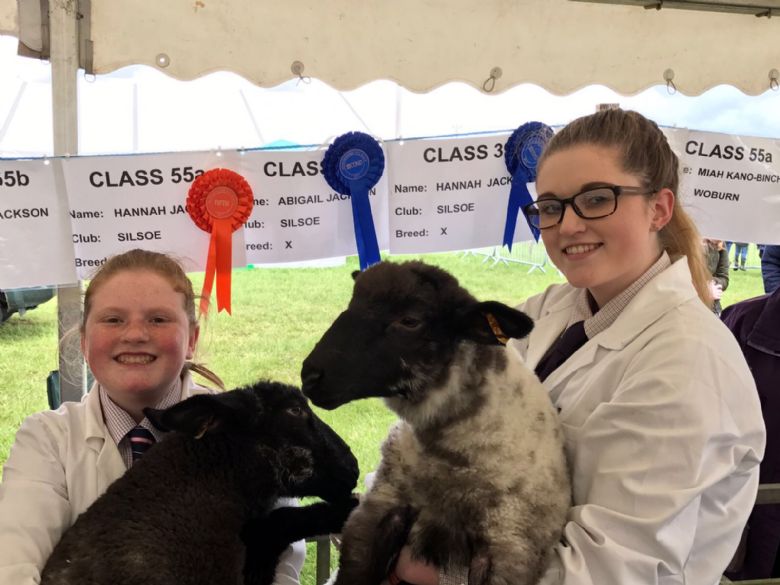 Two Redborne sisters, Hannah and Abi Jackson attended the Young farmers Annual rally with two of Redborne school farm's bottled reared lambs.
The competition involved creating a scrap book that detailed the lamb from birth up until the rally day in hand judging. Along with the scrap book the girls had to halter train the lams to walk them around the show ring.
Abi entered the intermediate group for 18 to 22 year old and Hannah was in the junior group 13 to 17 year old.
Both girls gained a 2nd place rosette in their group with their lambs. This is the first year both girls have shown livestock so this is a great success. Hannah then went on to do a young handler class and came 5th out of 15 other competitors.
Both girls entered various other baking and photography classes and both gained 1st place rosettes in all of these groups. (Kelly Savage)
Teachers for Tomorrow

Nineteen sixth form students successfully completed the Teachers for Tomorrow programme this year from across the whole spectrum of school departments. Students assisted with planning and leading aspects of lessons with classes from years 9-11 and have been greatly missed by some students (and teachers!) now they have left to focus on their exam revision. We hope they return to the classroom again one day as qualified teachers and continue to inspire young people in their chosen subject area. Well done to all of you.
Art Show 2017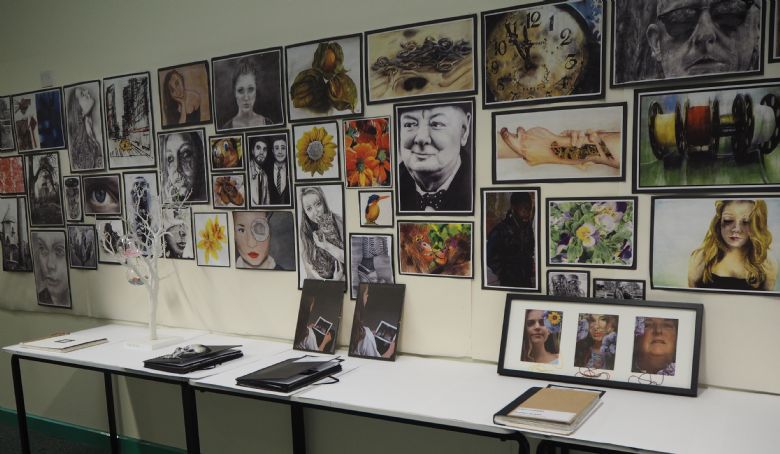 On Thursday 18th May, there was a fantastic show of the art produced by the students at Redborne. It ranged from the Pop Art projects from Year 9 students right up to the A level artist in the sixth form. The quality of the work was outstanding and we wish all the students the very best for their results in the summer. Click here for more pictures of the event. Students can see more in Lesson Store.
Local Support for Basketball at Redborne
We would like to thank the White Hart, Ampthill and their deputy general manager Andy Carp for their generous donation to Redborne PE department. The donation has helped support the existing basketball club and also update equipment for use in core PE lessons.
Girls Rugby
Redborne girls' rugby team is taking part in a rugby sevens tournament happening on the 15th June. Currently the girls are putting the time training with a Northampton Saints coach every Wednesday after school until 4.30pm. We wish them the best of luck.
County Golf Championships
Redborne enjoyed success at the latest County Golf Championships managing to win the individual event with Luke Baynham and the team event with his partner George Skinner. The Redborne second team narrowly missed out on runners up spot on count back (Will Glennister, Patrick Elkins-Daye and Josh Malkani). This was a tremendous effort by all five boys on a long course at Luton Hoo, which now qualifies Redborne as Bedfordshire's representatives at the National Finals at Woodhall Spa in July. Well done to everyone and good luck in the finals.
Prague Trip 2017
A letter was sent home this week as the Prague trip has had to be cancelled. The letter contained the following information.
Year 12 Humanities Educational Visit to Prague – 9 to 12 July 2017
It is with great regret that I am writing to inform you that the planned educational visit to Prague in July 2017 will no longer be going ahead due to insufficient demand for places on the visit which has meant it is no longer viable. We will continue to investigate further options for learning opportunities outside of the classroom for Humanities students over the coming months and may look to reschedule this visit or make other plans in due course.
Please accept our apologies for any inconvenience caused and please arrange for your child to visit the school Finance Office to arrange for a refund of any monies paid for this visit thus far.
Mrs S Jones (
Subject Leader for Economics) and
Mr A French (
Educational Visits Coordinator)
Sixth Form Visit Parliament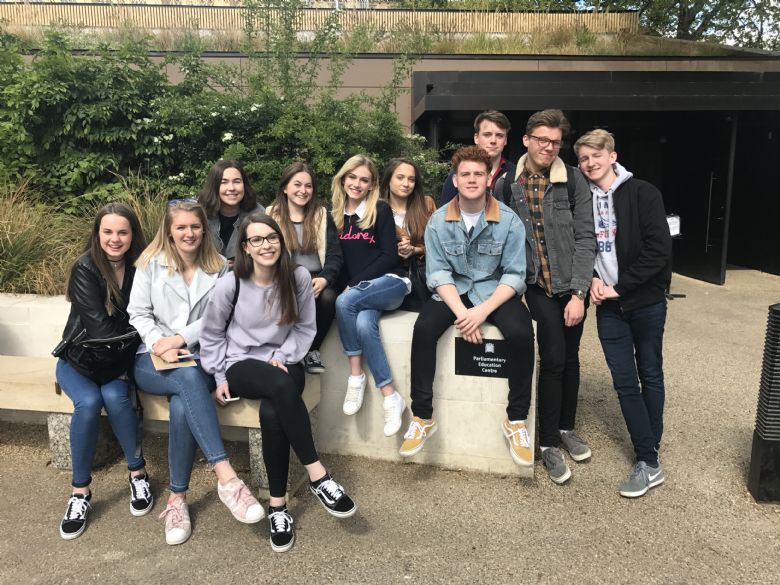 On Tuesday 25th April 2017, a group of Sixth Form Government and Politics students graced the famous corridors of the Palace of Westminster. The trip started with an infamous walk down Whitehall to source future potential work locations, followed by a quick stop to spot frontbench MPs participating in one of Australia's most important national occasions. The students were able to get a glimpse of our current Foreign Secretary, Boris Johnson, MP and Defence Secretary Michael Fallon, MP as they were participating in the Anzac Day commemorations outside the Foreign and Commonwealth Office.
Thereafter, the students took a guided tour around the Parliamentary estate. The highlight of the day was seeing the Speaker of the House of Commons John Bercow, jeer at the MPs present in the chamber. Mr Woodward helped the group play name that MP with his extensive knowledge of backbenchers.
After spending some time in Westminster Hall and Central Lobby, where lots of activity was taking place alongside the hotly debated restoration of the estate, the students went to an A Level workshop. In their Rights and Representation workshop their knowledge of parliamentary business was put to the test. The students were placed in teams to compete against each other on their A Level prowess. Sam and Dawn from the Parliamentary Education Service proved to be a helpful guide and support to examine the students' knowledge of both Government and Politics in action. It was an excellent refresher for the Year 12 students of the AS course. (Mrs S Coulson)
Zigi Shipper Visits Redborne

Zigi Shipper made a much appreciated 4th visit to Redborne on the 21st April to tell all 400 of year 9 about his experience of surviving the Holocaust. Zigi was their age, 14 when the war ended and is now an incredibly spritely 87! Students were brilliantly attentive and sat for just over an hour listening to him talk. They then had the opportunity to ask him questions for a further 45 minutes, and get a photo at the end. We are very grateful that he could come again this year thanks to the Holocaust Education Trust and the outreach work they do. These experiences are sadly becoming a rare privilege.
Cycle Event to be held at Redborne
Icknield Road Club are organising a Cycle Sportive and Family Fun Day at Redborne this weekend Sunday 30th April
They promise a fabulous fun day for everyone to enjoy. The event will raise funds for the East Anglia Air Ambulance Service.
Activities include a cycle event run by the cycle club, an emergency services blue light corner with the opportunity to meet the faces behind the scenes and find out more about air ambulance services in the UK. Food and drink will be available to purchase on the day.
A beer tent, BBQ, live music and entertainment, children's attractions, craft stalls and much, much more. Fun day is free entry.
There is an opportunity for the local community to see the Helicopter and meet the EAAA crew who will be making a special flight into Ampthill to meet with guests.
Classics Trip 2017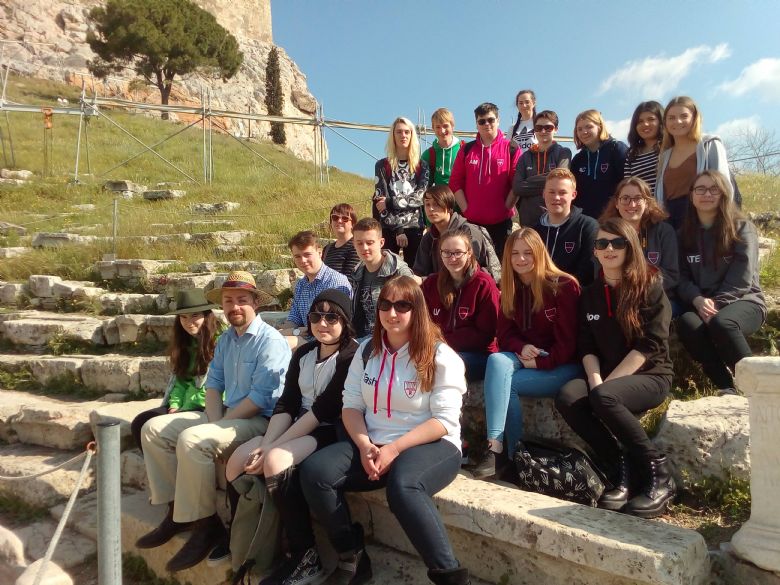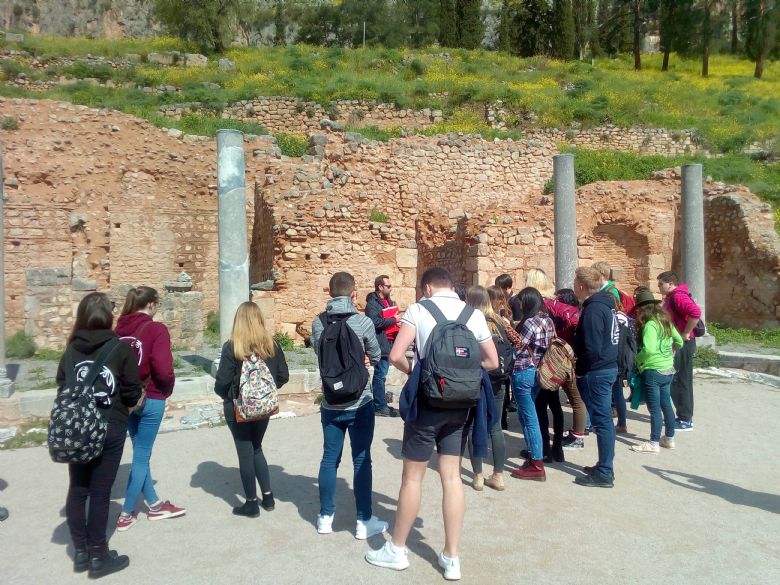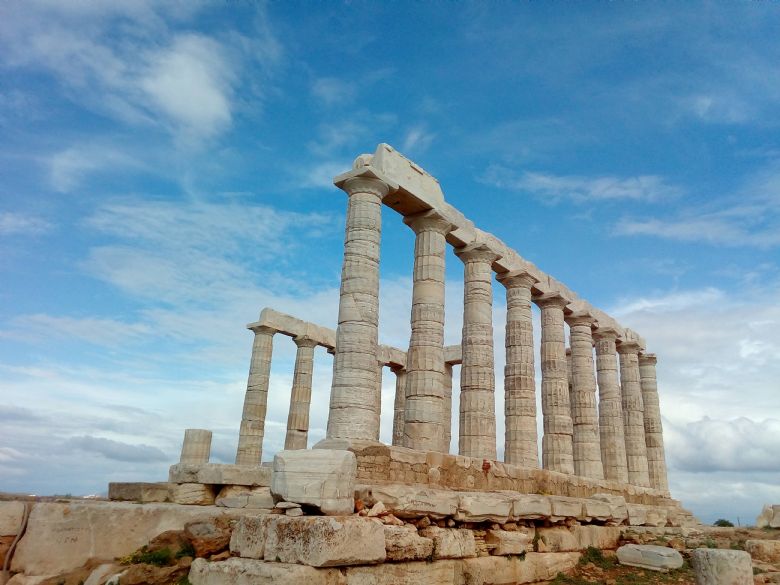 The glories of Ancient Greece are impossible to fit into a single long weekend, but the A level Classical Civilisation department gave it a good go! Mr Dobson and Ms Eldridge took twenty students, who behaved impeccably and with consistent maturity and interest throughout, on a whistle-stop tour of Cape Sounio, Mycenae, Epidauros, Delphi, and Athens. Apart from Biblically wet weather on the Saturday (Mr Dobson's phone still hasn't dried out fully), the glorious weather matched the beauty of the sites and artefacts (and food!) we shared, and the students returned with greater knowledge and understanding of the topics we study. And photos. soooo many photos!
Extended Project Qualification (EPQ) Evening 2017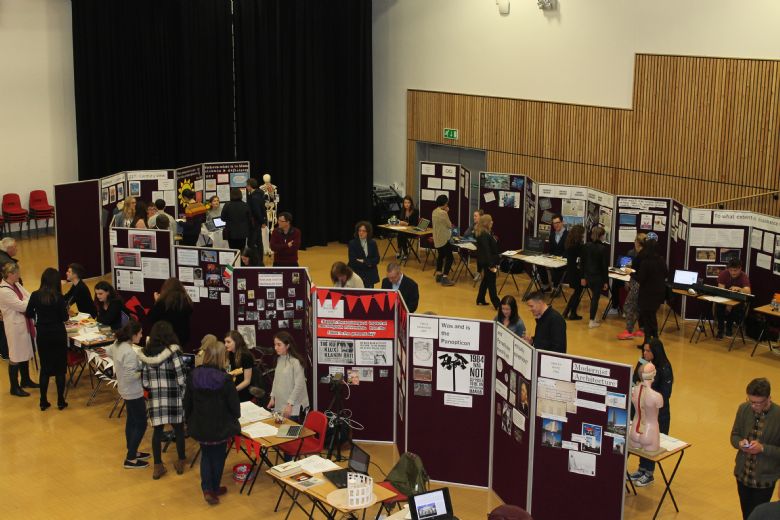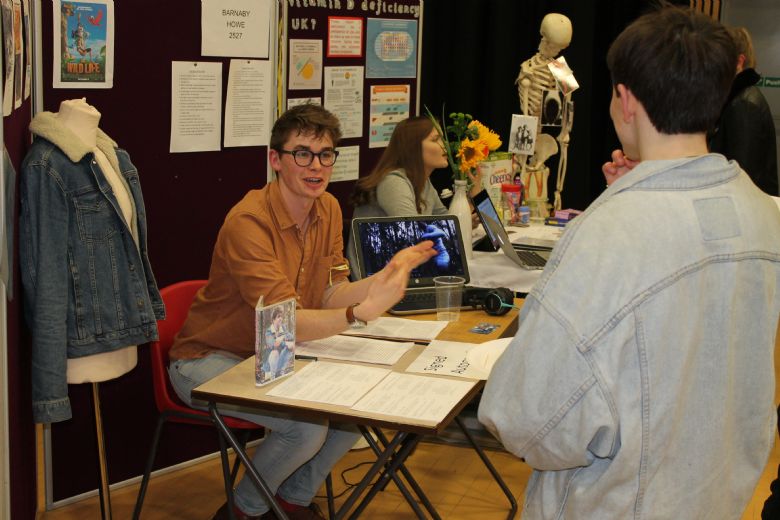 On the 20th March 2017, students, parents, staff and governors were welcomed into The Connolly Hall for an evening exhibition of work undertaken for the Extended Project Qualification (EPQ). The qualification, worth half an A2 level, is an opportunity for students to independently choose a topic that enthuses them and that they can take further, developing an essay or creative artefact in an area independent of their other A levels.
For the presentation, students set up a 'market stall' to display their work creatively and face probing questions from their individual supervisors and the wider audience.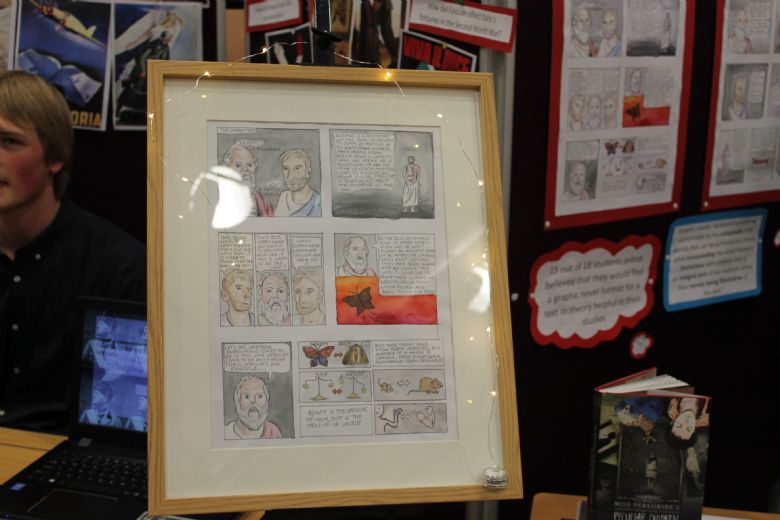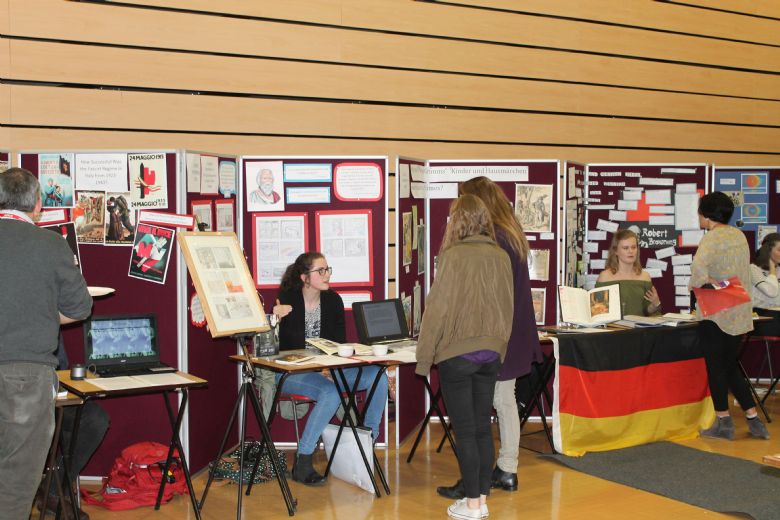 The evening was fantastically well attended and it was extremely impressive to see the huge variety of specialist subjects on offer; from Jack James' project on the Chernobyl Nuclear Disaster to Megan Healy's investigation on metastatic cancer. Students showcased clothing creations, answered challenging questions about radicalisation and investigated links between political philosophy and gender inequality - a wealth of projects were on show.
The Connolly Hall was filled with an exciting atmosphere throughout the night and it was fantastic to see so many people enjoying the exhibition. Thank you to the EPQ supervisors for their invaluable support throughout the year and for all who attended the evening and made it so successful. Miss N. Crossley
Rotary Technology Competition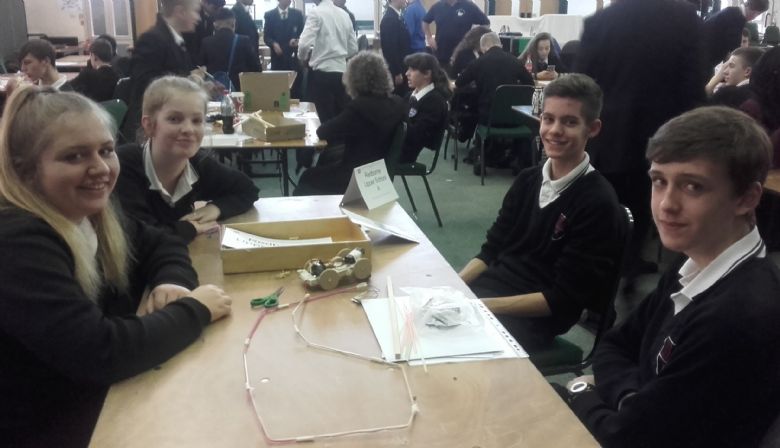 Congratulations to the mixture of KS4 and KS5 pupils who took part in the Rotary Tournament at Stopsley Baptist church on Friday 3rd March.
The 4 teams were set a design and make challenge where they needed to produce a design portfolio and a functioning model. This year, they were asked to make a vehicle to travel along a pipe and push/pull some debris. Quite a tricky one!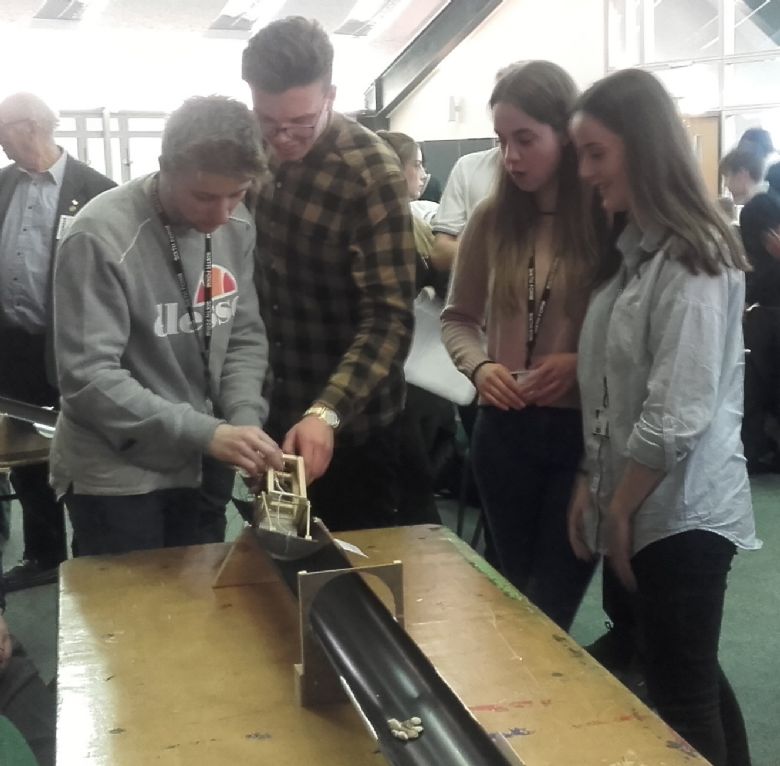 Foundation -
Samuel Harrison, Zoe Holland, Maisie Iles, Thomas Woods
Intermediate A - Danny Shaw, Abigail Church, Jess Wright
Intermediate B - Samuel Herbert, Hayley York, Sammy Rudkin, Becci Richards
Advanced - Ellie Roberts, Megan Harris, Sam Collins, Gabriel Forbes
Our first-time competitors in theFoundation Team won against the 9 other schools! The Intermediate A team were runners up despite being one man down, their photos and the winning trophy can be viewed in the display cabinet at the entrance of the Design Technology block.
All pupils were a credit to the school and a fun day was had by all. Rachael Swinney
Spanish Immersion Visit 2017
From 5th to the
9th March, students in years 9, 10 and 12 had the opportunity to take part in a Spanish immersion programme in Málaga, Spain. Students stayed with Spanish families from the Language School in Pedregalejo, a coastal suburb 10 minutes east of Málaga city and enjoyed a range of activities whilst benefiting from the sunny weather of the Costa del Sol. Thank you to Mrs Shaw and Mrs Crespi for accompanying the students on this very worthwhile trip. Miss N. Crossley
The Spanish immersion visit to Malaga was the best school trip I've ever been on. The host family I stayed with was extremely welcoming and helped me and my partner settle in very quickly in the five days we were there. They helped us with the language and welcomed us as part of the family. There was something new to do every day, everything from sightseeing tours to paella cooking and we even did flamenco dancing lessons. Every session was interesting and I enjoyed every single one of them. Whether we were new to the language or nearly fluent, everyone learnt something; words or phrases or simply something about the Spanish lifestyle. I would recommend this trip to anyone and will probably participate again next year. Amy Matthews
The Spanish immersion trip was an amazing experience. I met new people and not only my Spanish improved but also my confidence. The host family lady I was staying with was very friendly and I felt settled. I would highly recommend this trip. It was fun and enjoyable! The way you pick up a language this way is great as you are constantly speaking the language. Jacob Franklin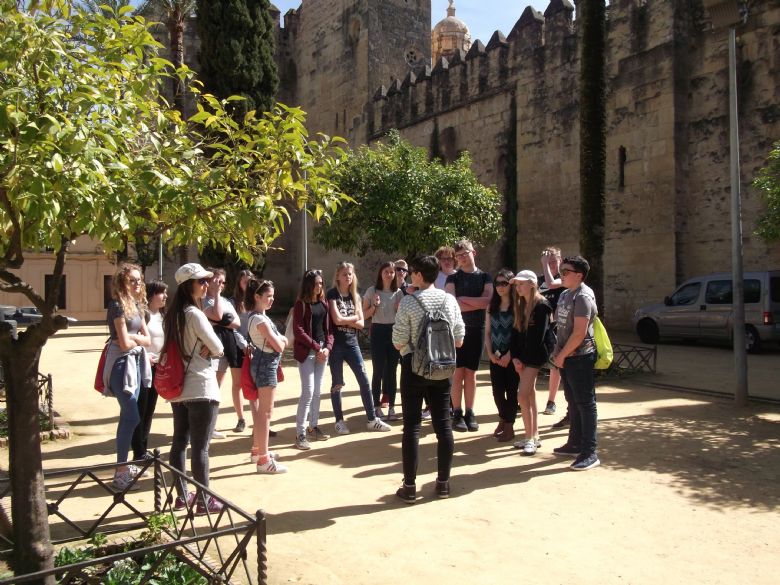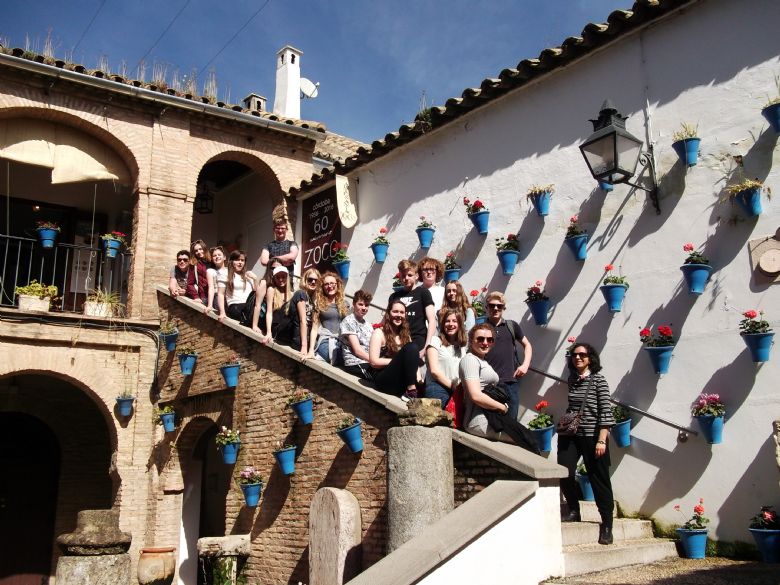 Year 11 French Penfriend Exchange
A small group of year 11 students volunteered to take part in a penfriend exchange with French students from a Lycée in Nîmes, a beautiful city in the Occitanie region of southern France. Students have been paired with French friends who share the same interests and they have already started to exchange letters and emails. We look forward to continuing communication throughout the year. Miss N. Crossley
Work Experience in Spain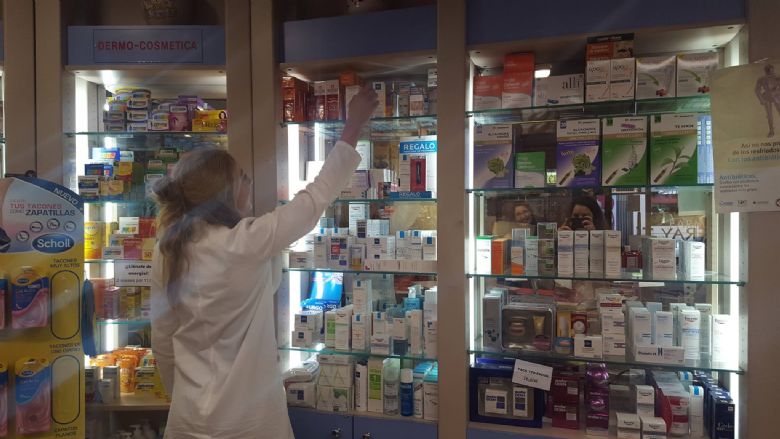 Halsbury Work Experience
In previous years sixth form language students have independently completed work experience abroad through the reputable company Halsbury Travel. Such an experience has proven to be extremely beneficial both in terms of improving linguistic abilities and developing a cultural understanding of the country visited. This year, Zelda Gill had the opportunity to work in a farmacia in Spain during the half term break. Miss N. Crossley
This is Zelda's account of her experience.
Doing work experience abroad is one of THE most inspiring, challenging and rewarding things you could do.
My Spanish class and I were given the opportunity to take part in a work experience in Spain with a company called Halsbury Travel. I was, at this point, struggling in Spanish classes as I'd just received a low AS grade. My confidence was low: I needed to boost it in some way, so I applied online to go in February half term. Of course I assumed at least one of my friends from my Spanish class would join me, but no one seemed up to it. So I went on my own.
There were people of my age from different schools, whom I met for the first time at the airport and we all got to know each other throughout the week. In fact I made some friends for life and we are all hoping to return to Spain sometime in the future.
I gave details of my interests before going on the trip and specified that I was interested in biology and chemistry. The company was so helpful in finding me a specialised work placement and I ended up working in a pharmacy. Not only was I able to talk to customers in Spanish but also I felt I was improving my knowledge in my other A level subjects.
There were some amazing work placements that people on the trip were able to attend. As an example one boy worked in a performing arts school and helped to direct a play in Spanish which we all went to see on one of the evenings. It was insane how much we had all learnt at this point, so much so that we understood a whole play and were able to speak about it afterwards with the people working in the theatre.
I had an amazing time, and although there were low moments, especially early in the week, where I felt I understood no Spanish at all, there was a certain breakthrough point where my brain, in some sort of way, clicked. By the end of the week, I was able to understand almost everything and speak with so much more confidence than before. I have certainly benefited from it and would recommend the trip to any A level student who is aiming high!
Battle of the Bands 2017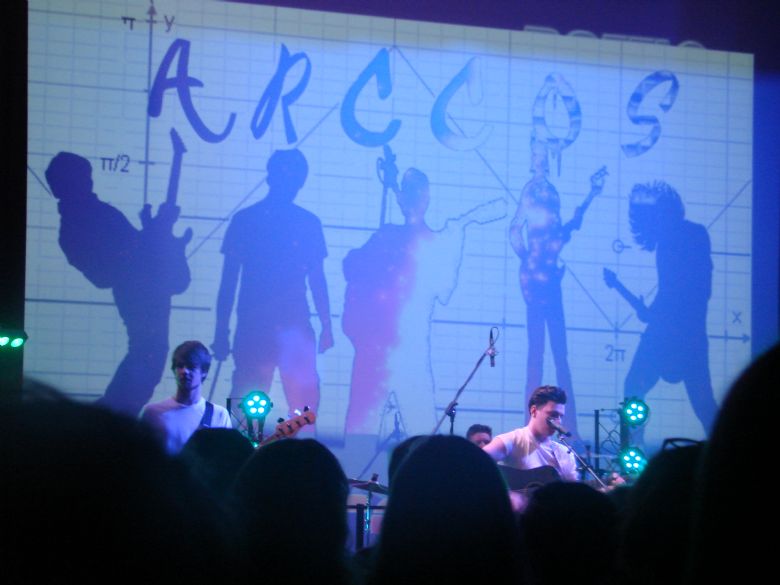 "The best Battle of the Bands I have seen at Redborne!" was the opinion of Mr Price (music teacher). The performances, sound and lights were all fantastic, and special thanks have to go to the people that helped set up and support on the night. The event has raised somewhere in the region of £750 for Families United Network, which is fantastic. There was a large crowd of over 175 people and we hope to build on that and make BOTB even bigger and better next year.
Congratulations to all the bands who performed, and in particular ARCCOS who will be playing Amp Rocks 2017 and representing Redborne at the Bedfordshire Schools' Battle of the Bands. Special commendations also to PEACH and Ruthless Faze for making the final 3, and to the Purple who have won the recording session for selling the most tickets. Well done to all.
Hospitality shown by Redborne Students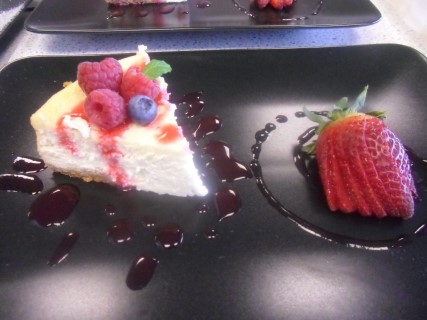 The year 11 hospitality group completed their 'event' today. They served a three course meal plus tea, coffee and homemade biscuits to 20 visitors today and were outstanding!
The following students took part; Kira Allen, David Bass, Heather Bull, Ella Clements, Lauren Digby, Emma Findlay, Chloe Hutchinson, Imogen Mooney, Anna Sheard, Jodie Wallman and Chloe Wiles
The menu!
STARTER
Breaded mushrooms with homemade garlic mayonnaise
Cheese soufflé with a cheese crisp
Chicken goujons with homemade tomato ketchup
Cheese and bacon potato skins with a chive and sour cream dip
Salmon pate with homemade bread
Chicken tikka kebabs served with flatbread, yoghurt and mint dressing and salad
MAIN
Stuffed chicken wrapped in bacon served with dauphinoise potatoes and seasonal vegetables
Toad in the hole with homemade gravy and seasonal vegetables
Pork and apple burgers with sweet potato chips and homemade tomato ketchup
Vegetarian (quorn) lasagne served with garlic bread and mixed salad
Steak and ale pie served with seasonal vegetables
Fish pie served with seasonal vegetables
DESSERT
Chocolate fondant with raspberry ice cream and spun sugar
Baked vanilla cheesecake and homemade fruit coulis
Crème brulee served with a homemade shortbread biscuit
Apple pie and custard
Lemon meringue pie and citrus sorbet
Tiramisu
Strawberry and raspberry meringue stack with Chantilly cream
Ben Takes Gold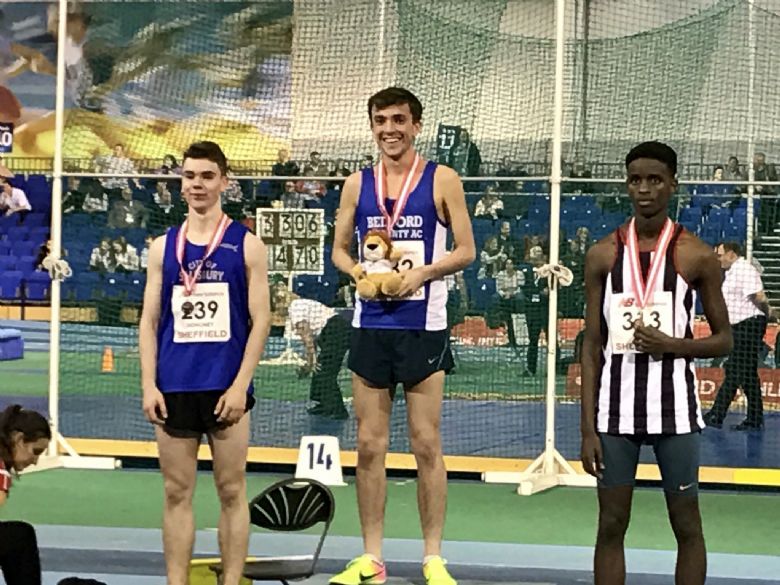 Yesterday, Ben Davies competed in the National U20 Indoor Championships for 1500 metres in Sheffield, this was the finale to the indoor season. After tucking in behind the leading runner, he timed his sprint finish perfectly taking the lead with 250 metres to go. He won by over two seconds in a personal best time of 3:51.82.
Not only did this mean that he became National Champion, but he has been selected to run for England next weekend in Cardiff. You can see the race by clicking here. Well done and good luck to Ben for next weekend.
Latest Information Letter
Please click here for all the information for March. Please note that Battle of the Bands is on Thursday 1st March, there was an error in the first draft of the information letter sent home.
Year 9 Trip to the First World War Battlefields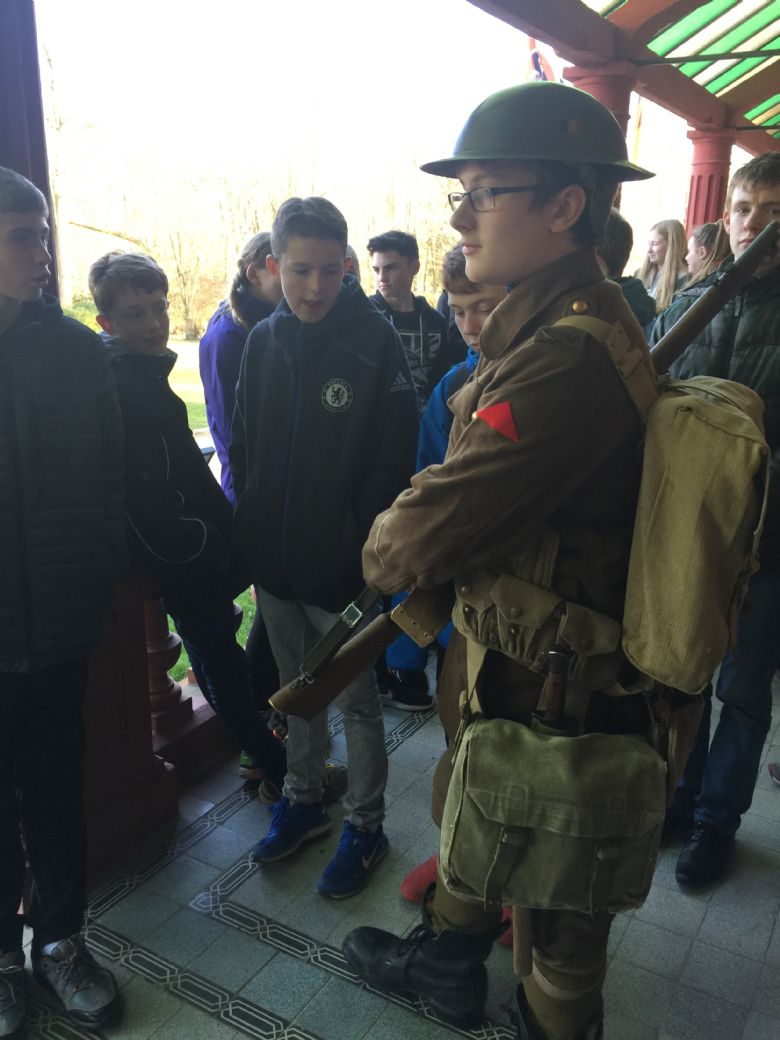 The trip to Ypres in February 2017 was a big success. After a very early start at 5 O'clock in the morning, the long coach journey was definitely worth it as the sights that were seen were amazing.
The Eurotunnel was an interesting experience for many as was the drive through two countries. When we arrived in Belgium at about 11.00 we had already picked up some excellent tour guides and we were ready to go.
We drove through countless flat fields until we reached the second largest commonwealth cemetery in the world. We were taught about how and why the graves were organised in a certain way and how so many people of different races and cultures took part in the war. We then visited another cemetery where fewer soldiers were buried but they all had a different story. We then took a trip to a large German graveyard and learnt about how and why it came to be there. This was also where Adolf Hitler had once walked.
The Canadian memorial was next and it was massive. There we learnt about gas attacks and how they changed the war. We learnt how gas masks changed from useless bits of cloth to more modern equipment in a matter if years. The trip to the Passchendaele memorial museum was amazing as we learnt about many different bits of equipment, walked in bunkers and trenches and even got to try on a soldier's uniform and gear. We ended by visiting the largest commonwealth cemetery in Europe and paying our respects to the many soldiers buried there by placing a poppy wreath with a message from Redborne pupils.
We had a great time and learnt a lot as you would hear if you asked any student who went on the trip. (Louis Gill, 9DBY)
Ski Trip 2017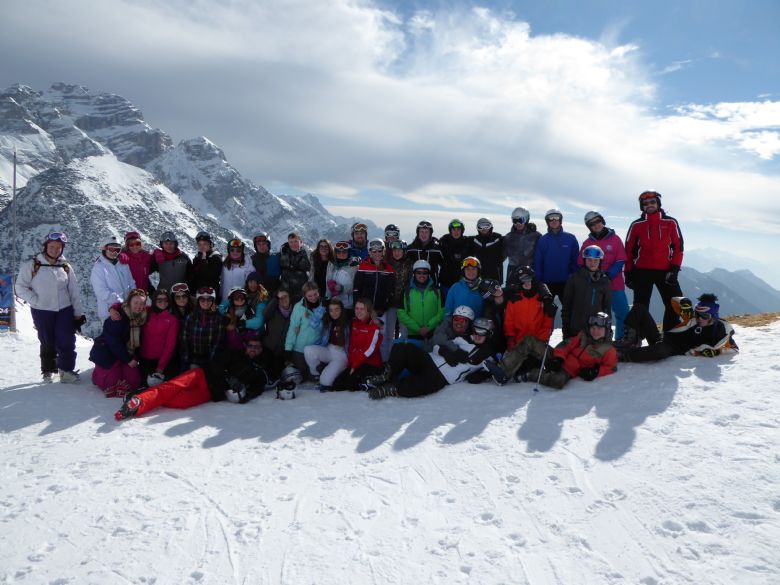 Over half term Redborne's annual ski trip went ahead. In a break from tradition, we visited Italy – specifically the Pinzolo region of The Dolomites. As 24 hour coach journeys go, this was a bad one actually totalling nearly 28 hours, but we were rewarded for this arduous trial with six days of glorious sun-soaked skiing, a lovely hotel (which included the finest ski trip food we've ever experienced) and a lot of laughter. As ever, our students were a credit to the school; their exemplary behaviour drawing comments from the staff at the hotel that were effusive in their praise. Even the year 13 girls were quite polite (#ladylike). Our twitter feed kept those back home up to date and can still be accessed to see some of the photographs that may entice you onto next year's trip. It was a fabulous week and we hope to return to Pinzolo next year – hopefully, some of you will join us. Letters detailing the trip for next half term will hopefully be available towards the end of March, once our booking has been confirmed. for photos from the trip, please click
here
. (Mr Trapp, Mr Graves, Miss Borritt, Mr Brooks and Miss Calloway)
Redborne Golfers' Success
Two Redborne pupils, Will Murray and Lewis Vereecque, were part of the Beadlow Manor golf team who were crowned UK junior team champions after winning a prestigious tournament which more than 1,000 teams from across England, Scotland, Wales and Ireland entered at its preliminary stages.
The Junior Team Golf Home Nations tournament has been running for over 20 years and is the only such event to run across the UK.
Over the years, the competition has seen a number of juniors take part who have gone onto successful professional careers, including Ryder Cup player Matt Fitzpatrick, Nick Dougherty and Oliver Wilson.
After a qualification process involving county, regional and national finals, this year's competition culminated in the eight best teams from across the UK going head-to-head in Portugal.
The Beadlow Manor team progressed to the championship match on the Morgado course on the Algarve after winning their three group games against the New Golf Club, St Andrews from Scotland and two teams from Wales, The Vale (who were last year's winners) and Mold Golf Club. The boys from Beadlow then triumphed in the final by beating Romsey from Hampshire in a nail-biting finish that went down to the last game.
The journey to the final started last year when Beadlow Manor became Bedfordshire county champions for the fourth consecutive year and played further matches on a regional basis before finishing runners-up in the England finals at Studley Wood in Oxfordshire in October 2016. They were then invited to travel to Portugal to compete in the Home Nations tournament over four days playing match play, the same format as the last day of the Ryder Cup, on the Morgado and Alamos courses.
Gary Boyle, Beadlow's Junior Organiser, said: "To get to the finals was an amazing achievement but to go over to Portugal and win the whole competition against the quality of opposition was beyond my wildest dreams. The team spirit was tremendous and the boys were brilliant, both on and off the course. We have over 50 players in our junior section and I hope we can inspire even more boys and girls to take up the game."
The county golf championships are getting close. If you wish your child to be entered, please get them to collect a letter from Mr Salisbury in the PE office.
Latest News and Information
The latest letter can be found here.
Sixth Form Presentation Evening January 2017
A fantastic evening was shared by staff, parents and returning former students to celebate their hard work over the past two years. It was a chance to catch up and discuss what has been going on since they collected their results in August. For pictures of the event, please click here.
Christmas Concert 2016
The Christmas Concert was another smashing success. Well done to all for making it such a lovely evening. For pictures of the event, please click here.
Redborne Musings
The latest edition of the school magazine can be found here.
GCSE Presentation 2016
For pictures of an excellent evening, please click here.