English Faculty
In the English Faculty we have fifteen teaching staff and one member of support staff. The faculty comprises a number of departments which include creative writing, Literature, language and literature and film studies.
In Year 9 Students will study texts from a variety of literary genres and historical periods, analysing the ways in which character, setting and language are used. Each class will study a Shakespeare play, a range of non-fiction travel writing, poetry and Victorian prose. Class work will include group work, discussion and debate as well as formal written work. Writing activities may include the writing of letters, diaries, empathetic responses, analytical essays and creative writing. Students will develop their reading skills though the analysis of a range of texts, comprehension tasks and reviews. Students will also participate in library lessons once a fortnight following an introductory unit led by the school librarian. The year 9 course prepares students for the challenges of the AQA GCSE course by using the objectives and mark schemes for assessment, as well as using a range of similar text types and tasks.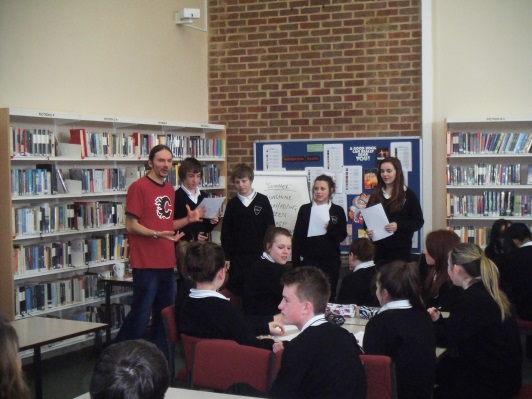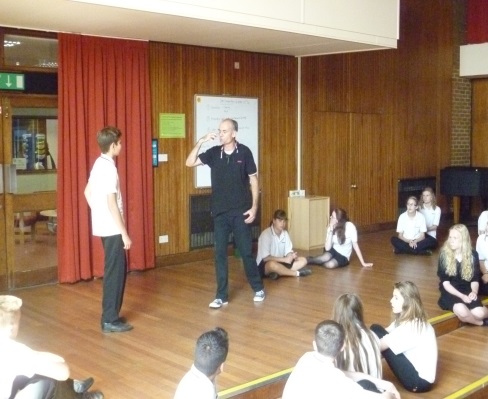 KS4 English, English Language and English Literature
In Years 10 and 11 all students will study for GCSE qualifications in AQA English language and literature.
English Literature A-Level
A level English Literature is a course that holds a keen sense of the traditional; where the emphasis remains on reading and responding to literature through time, whilst also considering shared contexts. The AQA specification is exciting and offers a wide range of texts, including writing that dates from the fourteenth century to the present day, viewed through a historicist lens. All three forms – prose, poetry and drama – will be covered.
The A level course consists of two examinations with open and closed text elements and a unit of coursework - an independent critical study. The breadth of study at A level is wider and considerably more challenging than at GCSE. Students are also offered a substantial level of independence when choosing texts for the coursework component, one of which must have been written pre-1900. At A level, texts connect to various themes: Love through the ages, World War I and its aftermath and Modern times: literature from 1945 to the present day. Shakespeare is also studied in considerable depth.
Our A level students love the seminar style lessons and the opportunity to read and discuss literature. Many attend the weekly English Literature club, which offers alternative critical readings, revision and coursework support and further access to staff expertise.
Students in Sixth Form study AS and A2 level courses, set by Edexcel. The emphasis is on reading and responding to literature although there is some opportunity to write creatively. The range of literature to be studied is wide and may include writing that dates from the fourteenth century to the present day. All three genres – the novel, poetry and drama – are covered.
English Language & Literature A-Level – AQA
English Language & Literature A-Level is a course which, as you would expect, combines aspects of linguistic study with the analysis of literary and non-literary texts. The range of texts is wide covering poetry, prose and drama in addition to an anthology of non-literary texts. There is the opportunity to write creatively and in year 13 students work on a language investigation coursework looking at a literary and non-literary text and investigating how a common aspect is represented in both. This can be wide ranging and topics could include looking at the representation of women in a literary text and song-lyrics, or the representation of soldiers in war poetry and war reports or propaganda posters. Current texts being studied include: The Lovely Bones by Alice Sebold, poetry by Carol-Ann Duffy, The Kite Runner by Khaled Hosseini, Arthur Miller's All My Sons.
Creative Writing A Level
Creative writing is a stimulating and challenging course which offers pupils the opportunity to explore the technical craft and process of writing, allowing pupils to develop not only their talent and flair as writers but also other key skills such as critical analysis and independent research.
At AS level, pupils will study four key forms: prose, non-fiction, script-writing and poetry. We enjoy guiding pupils to realise their full potential in each form and explore genres, characters and structures that they did not have the opportunity to engage with at GCSE. At A2, pupils look at a range of texts through a thematically structured scheme of work, reading and critiquing the works of other writers as they write their own, original pieces on: people, place, culture and conflict. Pupils are regularly assessed internally by class teachers and are offered detailed, personalised feedback on how they can further develop as a writer. Externally, the pupils are assessed through both coursework and exams.
In the creative writing department, we thoroughly enjoy giving pupils the opportunity to refine their craft and realise their individual strengths as a writer. However, we also emphasise to the students the importance of reading as a writer and heavily encourage pupils to read widely - guiding them towards challenging and inspiring texts. Pupils also frequently participate in workshop activities where they critique the work of their peers and develop their own work further according to feedback. The ability to deliver and respond to constructive criticism is a skill that is invaluable in allowing students to develop professionally in their adult lives.